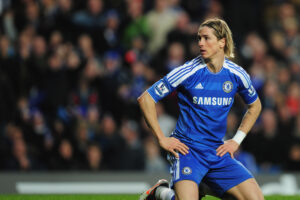 Chelsea bisa dibilang merupakan salah satu tim kuat saat ini. Mereka punya banyak pemain bintang di skuatnya.
Dengan kekuatan finansial yang besar, Chelsea tidak kesulitan mendatangkan pemain bintang. Bahkan, tidak jarang The Blues memecahkan rekor transfer klub untuk mendatangkan pemain bintang.
Chelsea terbilang cukup sering membeli pemain dari klub luar negeri. Terbaru, mereka mendatangkan Romelu Lukaku dari Inter Milan seharga 115 juta euro.
Meskipun begitu, Chelsea juga tidak anti merekrut pemain dari klub rivalnya di Premier League. The Blues bahkan bersedia menebusnya dengan harga yang cukup mahal.
Berikut ini lima pemain termahal yang dibeli Chelsea dari klub rival di Premier League.
1.Raul Meireles
Raul Meireles datang ke Chelsea pada tahun 2012. The Blues merekrutnya dari Liverpool dengan biaya transfer sebesar 13,5 juta euro.
Karier Meireles di Stamford Bridge bisa dibilang cukup sukses. Dia meraih trofi Liga Champions di musim pertamanya membela The Blues.
Namun, kebersamaan gelandang asal Portugal itu bersama tidak bertahan lama. Meireles memutuskan hengkang ke Fenerbahce pada musim berikutnya.
2.Olivier Giroud
Olivier Giroud mengawali kariernya di Inggris dengan bargabung bersama Arsenal. Sepanjang memperkuat The Gunners, pemain asal Prancis ini tampil 253 kali dan mencetak 105 gol.
Tak lagi memperkuat Arsenal, Giroud memilih hijrah ke sisi lain kota London. Dia bergabung dengan Chelsea pada Januari 2018 dengan biaya transfer 17 juta euro.
Berseragam Chelsea, Giroud menjadi salah satu pilihan utama di sektor penyerangan. Pemain asal Prancis tersebut tampil sebanyak 119 kali dan mencetak 39 gol bagi The Blues.
3.Juan Sebastian Veron
Juan Sebastian Veron tidak tampil mengesankan bersama Manchester United. Namun, hal itu tidak menghalangi Chelsea untuk merekrut Veron pada tahun 2003.
Chelsea merekrut Veron dengan mahar 21,8 juta euro. Namun, gelandang asal Argentina tersebut ternyata mengalami nasib yang sama di Stamford Bridge.
Veron tidak bisa menunjukkan permainan terbaiknya bersama Chelsea. Sang pemain kemudian dipinjamkan ke Inter Milan dan Estuadiantes sebelum dilepas ke klub Argentina tersebut pada tahun 2007.
4.Shaun Wright-Phillips
Shaun Wright-Phillips memulai karier sepak bolanya di Manchester City. Striker asal Inggris tersebut kemudian hijrah ke Chelsea pada 2005 dengan biaya 31,5 juta euro.
Sayangnya, Wright-Phillips tak bisa bersinar selama berada di Stamford Bridge. Sang pemain kesulitan menembus tim inti karena harus bersaing dengan bintang-bintang The Blues lainnya.
Setelah hanya mampu mencetak 10 gol selama tiga musim, Wright-Phillips pada akhirnya meninggalkan Chelsea. Dia kembali bermain untuk Manchester City.
5.Fernando Torres
Fernando Torres membuat Chelsea memecahkan rekor transfer saat memboyongnya dari Liverpool. Bomber asal Spanyol itu ditebus dengan mahar yang mencapai
Torres tampil sangat tajam ketika memperkuat The Reds dan Chelsea berharap banyak dari sang pemain. Sayangnya, Torres tak mampu menunjukkan ketajamannya di Stamford Bridge.
Torres hanya mampu mencetak 45 gol dari 172 pertandingan di semua kompetisi bersama Chelsea. Kebersamaan mereka akhirnya berakhir setelah Torres bergabung dengan AC Milan.